The decision between designing a single page website and a multi-page website can be difficult. With the increase in mobile and social media usage, simple, fast and responsive single pages are among the most popular trends on the internet. On the other hand, multi-page websites, with navigation menus and the ability to jump from one page to another, are what a large portion of users know best and trust most.
The main differences between single page and multi-page websites
Their first and foremost difference is that a single page website consists of only one page, that is, there are no other pages such as e.g. "Contact", "About" etc. Usually the single pages are divided into sections, and if they contain a menu, when you click on a link, it will take you "scrolling" to the corresponding section. That is, the navigation takes place within the same single page, between its sections. Their minimal structure is usually used for presentation and portfolio websites, since their content is specific and more limited.
A multi-page website contains more pages, that is, when the user clicks on a link in the menu, the browser will load a new page, different from the original one. The size of the overall website will be greater in data volume but also in "depth", since its structure resembles that of a tree, i.e. it has pages, subpages, categories and subcategories. Basic difference between the two kinds of websites also, is that a single page cannot host a blog. The articleography of a website, if it is not exclusively a blog, is necessary to be separated from the home page, as firstly, this ensures the fast loading of the home page, as the volume of data can be large and cause a delay in its "loading", and secondly, the first image should make a good impression by providing a more "tidy" and organized content to the user. All of this makes the single page article idea a pretty bad idea!
Positive & negative
Single page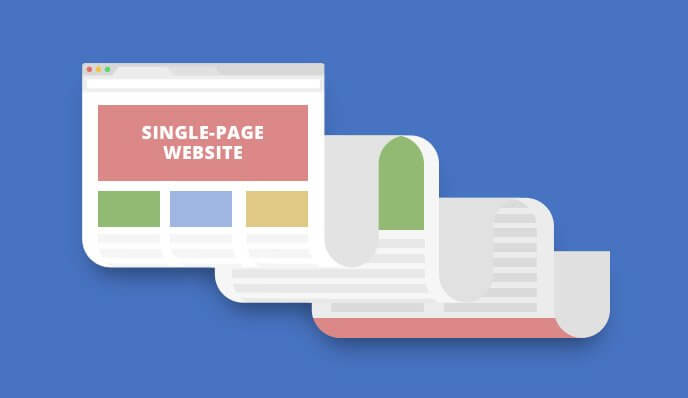 Positives:
• They are clear and understandable.

• The user enjoys a continuous, consistent and therefore pleasant experience as he does not get lost between pages and their content.

• There is consistency in design across devices and the user does not need to open and close menus and to click on links, where mobile devices and especially smartphones are more difficult.
Negatives:
• They contain a small amount of content so the "power" of the page in terms of SEO is lagging behind compared to multi-page websites that contain much more content and keywords.

• They may not be as useful for businesses that have a large amount of content to present.

• The same applies to e-shops, since the purchase of a product requires multiple pages to complete (basket, checkout, etc.)
Multi-page website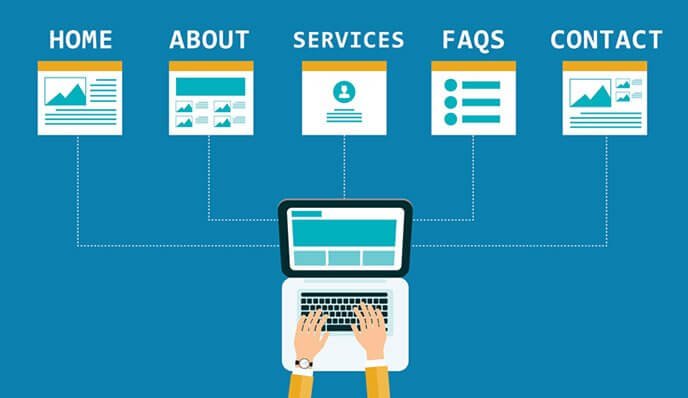 Positives:
• It suits almost any type of business, since it has no limitations.

• You can make it as big as you need. You can start with a few pages and add more in the future depending on your content and business. This is easier to do on a multi-page website, since the pages are already defined with their thematic sections, creating a more detailed structure. In a single page, the content is all on one and only page, the home page, so the decision to insert more pages has to essentially create your home page from scratch.

- They have strong SEO. Multi-page websites are more likely to contain more content than a one-page website, which is the cornerstone of your website's high search engine rankings.
Negatives:
- It is more difficult to maintain. And we are not only talking about the functionality, but also about the design and the content within it. The appearance of your website should be modern, but your content should also be modern and up-to-date.

• Some pages with a large amount of content may load slowly raising the "bounce rate" of your page, i.e. the rate at which the user abandons it. For this reason, you should pay attention to the size, especially of the multimedia you upload to your page, if you do not want it to "crawl".

- It is more accurate in relation to single pages. And this is because their design and development are much more difficult, which is why they cost more. And if we think that all the pages of your site will have to be adapted for use on mobile devices with different screen resolutions, then the cost rises more.
Conclusion
We hope this article has made the differences between single page and multipage website design clearer. So in summary, a single page design is ideal when you have a narrow focus or encourage users to do something specific. It is also ideal for mobile first design. On the other hand, multi-page website design allows you to expand your reach, stick to traditional navigation systems and optimize your SEO strategy.
To determine whether you should design a single-page or multi-page website, there is no rule. The most important thing to define first is your content. Consider what information you want to show your users and how to make that information as accessible to users as possible. Then figure out the budget you can spare and start talking to a web designer about the solution that works for you.
The only thing that is certain is that, whether you end up with a single page or a multi-page website, creating an online presence for your business is essential.
Source: https://www.justinmind.com/blog/single-page-vs-multi-page-websites-design-battle/