A business having an organized profile on Google services is something that works in addition to its official website and can boost its traffic and its ranking in the search results.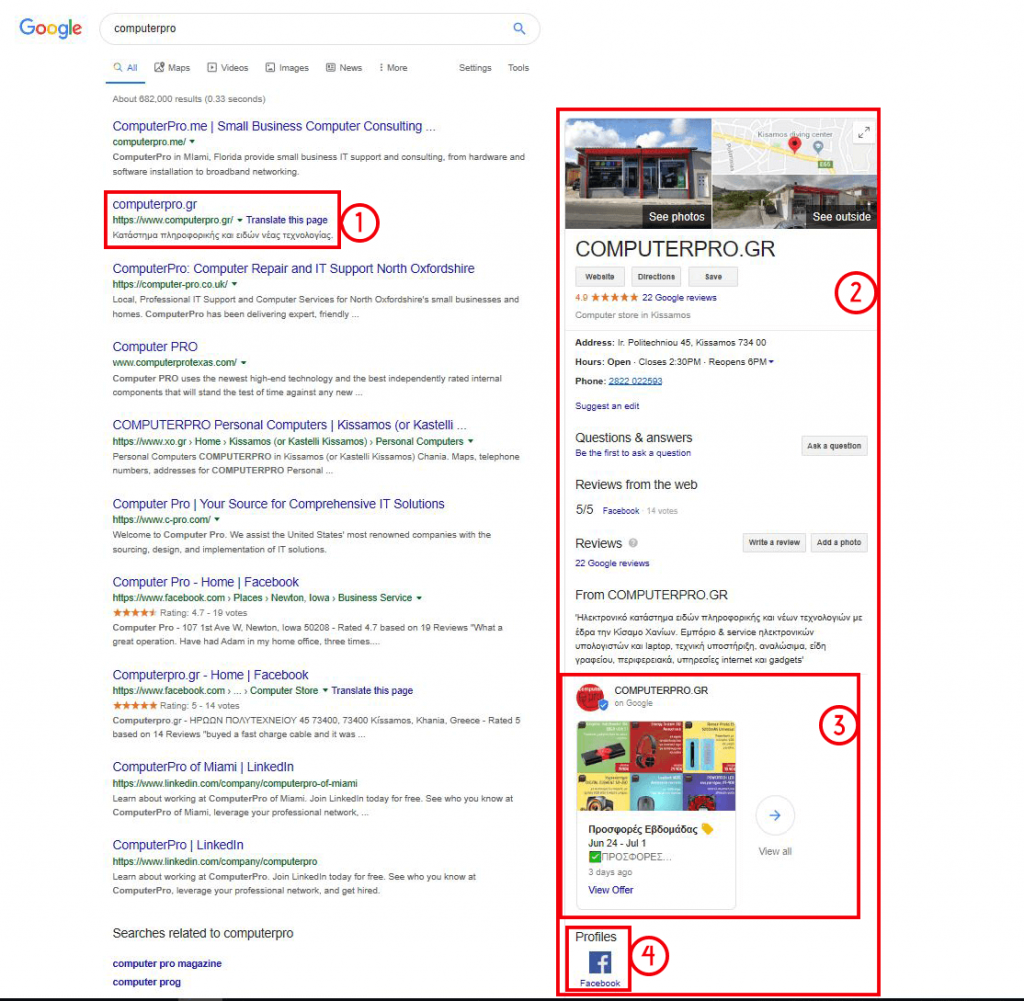 Create a professional profile on Google
We create usernames for your business in Google services
When we search for the username, then it appears at the top on the right hand side along with the business information.
information about the business
Location on Google Maps
working hours
branch to which it belongs
prices
products/services
contact info
selected photos
Reviews
Communication with the customers
More reviews -> higher ranking in search results
Questions and answers
It allows your prospects to ask a specific question and you provide an answer that all your customers will see.
Posts
Inform customers about events/new products/new services/offers etc. with posts similar to Facebook
Update on a recent offer (if you have a restaurant, for example, a special menu valid these days)
If you have e.g. e-shop, the interaction of a user with the posts, increases the chances of buying a product or service, since it takes him directly to the place you want when he clicks on it.
Statistics – Insights
Percentages and interaction points
See how the user approached your Google profile (organic search/facebook/instagram/email etc.) Implement new marketing strategy from this extremely useful data collection.
Get control over what people searching for your business see
In this application, each business creates its professional profile, entering some basic information, such as the location, hours, the industry it belongs to, etc. So in collaboration with other popular applications, such as Google Search (Search), Google Maps (Maps ) and Google Chrome (Browser) information about your business is registered in multiple places and interconnected, resulting in the improvement of your online presence when someone is looking for you.
Google, in addition to the widely used search engine, also provides some applications to serve not only users, but also businesses. In particular, Google My Business is an application that has been developed specifically for businesses.
Adjust your hours for holidays
Add a new phone number
Make changes in a few simple steps with Google My Business and your business profile will be updated across Google Search and Maps.
Convert photos into sales
Attract new customers with photos of your products or favorite menu items. Photos show what makes your business unique, and you can add as many as you like.
Encourage engagement by starting a conversation
Reviews are a two-way conversation you have with customers. When you get a new review, you'll be the first to know so you can respond right away.
Also, the more reviews a business has on Google Business, the higher it ranks in search results when someone searches for the same or something similar on Google.
Keep your customers informed by posting the latest news about your business
Reach people other than your followers. Give anyone searching for your business an incentive to visit by posting updates and offers directly to your Google business profile.
Quickly create custom posts from Google My Business on your phone, tablet or computer. Posts appear instantly on your business profile, Search, and Maps.
Learn how your customers interact with your business listing
Learn how customers interact with your business profile. How did users find you? Where do they come from? With Google My Business the answers are right in front of you.
Understand useful information for your customers
Check the number of views and actions from customers to find out if you are successful and how to stand out. With Insights you can monitor your business's clicks, calls, profile views and more.
Understand your customer community
Find out where your customers come from so you can better target them and attract more.
Find out which of your photos are getting the most attention, and how successful you are compared to similar businesses.